ACC solutions and experience enable enterprises to rapidly deploy storage as a service characterized by repeatable, automated provisioning that helps you deliver consistent, cost-effective storage services.
ACC storage and optimization management solutions are optimized for operational and business value, integrated for efficiency and automated for productivity. Our goal is to enable you to consolidate your storage infrastructure, aligning IT resources with business priorities.
Increase utilization and decrease down-time enhancing productivity
Verify the availability of business applications, data protection, and resource utilization, helping improve the return on your storage investment
Control and protect your growing data storage infrastructure
It is built on open standards, supporting heterogeneous storage environments with multiple operating platforms from a variety of vendors. Our solutions integrate within your environment to enhance your current IT investments and speed both deployment and time to value.
The autonomic features offered by ACC Storage and Optimization Management solutions proactively protect data throughout your infrastructure while minimizing administrative workload, saving you time and money. Self-healing capabilities identify potential problems and execute policy-based actions to help prevent or resolve storage issues without the need for manual intervention. Self-configuring capabilities identify and load appropriate device drivers, while self-protecting capabilities automate back-up across heterogeneous environments.
ACC offers two software products: Cloud storage Services and OpenStack cloud-in-a-box storage appliance to enable users and partners to build vendor-independent personal cloud solutions in order to ensure cloud data privacy and availability at the lowest possible cost – addressing the three most often-cited concerns professionals and businesses have about moving to the cloud.
Cloud storage services can access cloud storage from Amazon S3, Google Storage, Microsoft Azure, HP Storage, Rackspace Cloud Files, AT&T Synaptic and Nirvanix Storage, and/or private "cloud-in-a-box" storage from EMC Atmos, OpenStack or Meghaware.
As part of the solution Customer provision storage capacity on cloud which will be safe, secured and dedicated storage cloud
Solution provides redundant, scalable object storage a distributed storage system for static data such as virtual machine images, photo storage, email storage, backups and archives. It provides greater scalability, redundancy and durability with the ACC storage appliance responsible for ensuring data replication and integrity.
ACC will provision storage on demand and Monthly usage charges will be based on storage consumed.
Solution can be expandable. In future we can connect the appliance to store data on the other storage provider which offers storage on demand currently the solution support Amazon S3, Google Storage, Microsoft Azure, HP Storage, Rackspace or Cloud Files.

Architecture
The diagram below is logical design of the storage as services.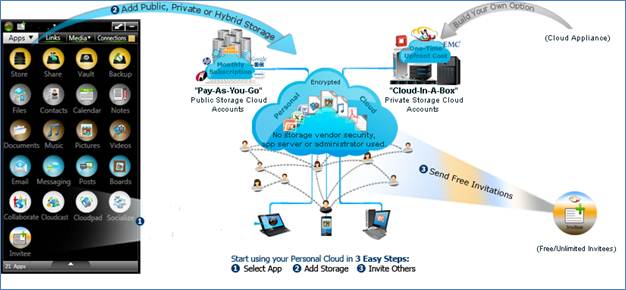 Storage access appliances will be installed on User machines
Through the several Apps available in appliances user can access storage from Amazon S3
If needed Solution can be extended to other on demand storage providers as well as in house storage
Given the high value of the data we will recommend that we take the back-up of this storage at another Amazon S3 Zone.
This back-up for DR is optional and will be priced and configured on demand from TIS.
Features
Object Storage Features
Write, read, and delete objects containing from 1 byte to 5 terabytes of data each. You can store unlimited number of storage.
Each object is stored in a bucket and retrieved via a unique, developer-assigned key.
A bucket can be stored in one of several Regions. We have chosen Asia Pacific Singapore Region to optimize for latency, minimize costs, or address regulatory requirements.
Objects stored in a Region never leave the Region unless we will transfer them out at the written request of TIS.
Authentication mechanisms will provided and integrated with client application to ensure that data is kept secure from unauthorized access. Objects can be made private or public, and rights can be granted to specific users.
Options for secure data upload/download and encryption of data at rest are provided in the solution for additional data protection.
Simple Storage uses standards-based REST and SOAP interfaces designed to work with any Internet-development toolkit.
Storage Appliance Features
Digital Locker: Transfer documents, audio files, pictures and video into your cloud accounts for universal access from any device.
Data Protection: Backup selected files from TIS user devices into Simple Storage cloud accounts and will restore as needed or request by the user.
Device Synchronization:  This will synchronize data across devices and clouds on TIS user demand or on creation of data by end users.
Content Unification: This will Display files from selected user accounts in a single window with filtering.
Communications: Seamlessly switch between using web-based IM/Email communication and private communication apps for encrypted exchange of sensitive information no third party servers used.
Collaboration: TIS users can use this interface to invite users to their storage account workplace for collaboration. This is very powerful feature and not available with any standard storage.
Social Networking: Seamlessly switch between your public facebook, twitter or pinterest and your own cloud storage account to socialize with invited friends. This stores all the transaction information in Logs so that no sensitive information could be shared or leaked from the storage by malicious user in organization.
Content Distribution: TIS users can use this to deliver encrypted multimedia content to own department or community groups based on the invited subscribers.
Security: All the files uploaded to storage account will be encrypted.
ACC Managed Services
Managing Storage Appliances Incidents
Managing AWS S3 incidents
Support for installing new Storage Appliances
Monitoring latency and performance parameters
DR Drills
24x7x365 remote monitoring and management
Restores initiated within one hour
Daily reporting and monthly face-to-face service reviews